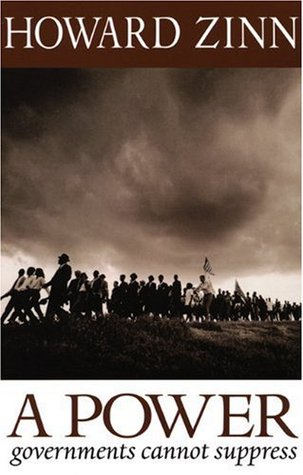 Zinn's upbeat look at our political moment and inspiring flashes of democracy, resistance, and hope.
A Power Governments Cannot Suppress is a major collection of essays on American history, race, class, justice and ordinary people who stand up to power. Zinn approaches the telling of U.S. history from an active, engaged point of view, drawing upon untold histories to comment on the most controversial issues facing us today: government dishonesty, terrorism, the wars on Iraq and Afghanistan, the loss of our liberties, immigration and the responsibility of the citizen to confront power for the common good. [Publisher's description.]
Published by City Lights Publishers, 2007.
Table of Contents
1. If History Is to Be Creative • p. 11
2. The Ultimate Betrayal • p. 17
3. Seattle: A Flash of the Possible • p. 25
4. Big Government • p. 29
5· The Forbidden Word: Class • p. 35
6. World War II: The Good War • p. 43
7. Learning from Hiroshima • p. 49
8. Unsung Heroes • p. 57
9. Tennis on the Titanic • p. 63
10. Killing People to "Send a Message" • p. 67
11. The Double Horror of 9 /11 • p. 73
12. Afghanistan • p. 77
13. Pacifism and War • p. 91
14. The Boston Massacre • p. 97
15. Respecting the Holocaust • p. 105
16. Patriotism • p. 111
17. Henry David Thoreau • p. 121
18. Nationalism • p. 143
19. Land Mines • p. 157
20. The Supreme Court • p. 163
21. Civil Liberties during Wartime • p. 169
22. Soldiers in Revolt • p. 173
23. The Coming End of the Iraq War • p. 179
24. The Enemy Is War • p. 189
25. Governments Lie • p. 199
26. The Long War • p. 207
27. Break-in for Peace • p. 213
28. Philip Berrigan: Holy Outlaw • p. 221
29. Mississippi Freedom Summer • p. 227
30. Eugene V. Debs • p. 231
31. Protest Literature • p. 237
32. Film and History • p. 243
33. Immigration Nation • p. 249
34. Sacco and Vanzetti • p. 257
35. The Optimism of Uncertainty • p. 267
Credits and Permissions • p. 271
Bibliography • p. 272
Index • p. 275